The return of Teston Blues...
KCC have announced that Teston Lane will be closed for up to 2 weeks from Mon 25 Aug.
roadworks.org, the national roadworks website, has the job posted as High Impact, Delays likely and features a memo (see below) which says "Please supply Civils Gang to dig down and investigate damaged drainage system..."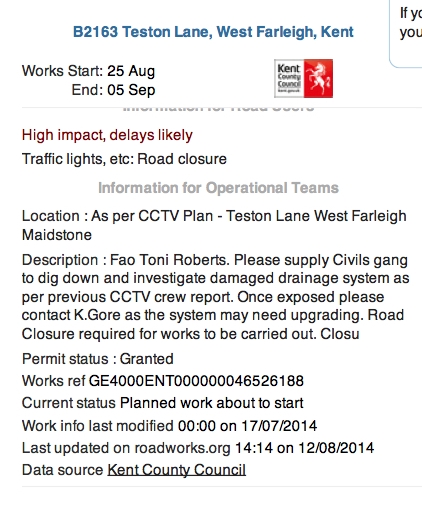 We contacted KCC directly and got a prompt reply (thank you):
The planned works to be carried out within the closure are drainage works to investigate and repair the system in the road, once this is complete the road will be resurfaced.
So the good news is that the council are planning on tackling the drainage issue.
This section of road was closed for resurfacing only 3 years ago, and the surface deteriorated almost immediately.
Informed local observers blamed a lack of tar under the trees (more tar is required to hold chippings in place under trees) but the constant problem with water run-off has been evident for years (see picture below)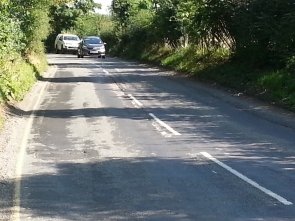 There used to be a pond in the second field on the left as you go down Teston Lane from Lower Road. This pond was filled in but perhaps the spring that fed it was not connected to a drain and has found its way to the river down the road?
Anyway, let's hope that KCC Highway Dept is successful in fixing the drainage, whatever the cause may be...and let's hope it really does take 2 weeks or less to do that!
PS. Congratulations to the landowner of the woodland at the junction with Lower Road who has finally had the brush cleared (see below) so that traffic coming up the hill has a clear view of traffic coming from Maidstone...but now we can see that the fence needs mending!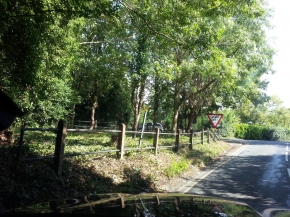 Stephen Norman
14 Aug 2014