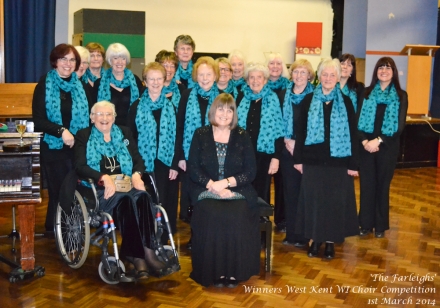 The Farleighs WI Choir
On Saturday 1st February The Farleighs WI choir sang in the first round of
a competition to find the WI Choir of the Century. The WI nationally will be
100 years old in 2015. The winning choir will sing in the Albert Hall at the AGM.
They were competing against 3 other choirs from West Kent. They sang three
songs, an Italian Folk song (in english) Mozarts Ave Verum (in latin) and a
new song Butterfly written by Alan and Catherine Simmons. It was originally
written for children, but suits an all female choir very well.
They had rehearsed hard, the choir mistress Lynn Seeley is a perfectionist,
but the hard work paid off. They were selected by a panel of professional
musicians to go forward to the next round. They will be representing West
Kent in the South East regional competition in Dorking in September.